Speaking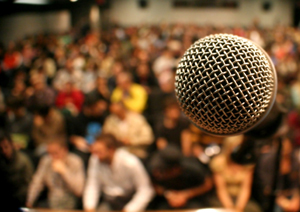 Lourdes Gant is ranked as one of the bests auditor and business advisor in the industry by her peers. She is available for your next conference, leadership event, or gathering where business owners and entrepreneurs are looking for a blend between serious business acumen, professional playfulness and open-minded joy.
For more information on booking Lourdes for your next event or meeting, please Contact Us.
Speaking Topics
Strategic Positioning: 5 Steps To Attract Better Clients & Better Associates While Creating Boundaries & Performing Effective Due Diligence
Internal Audit Operations & Management: How To Take Your Current Business, Your Current Team & Generate Exponentially Greater Cash Flow, Greater Collaboration, Bigger & Better Clients & Have More Time To Enjoy It All
Money Breakthrough Method: How to Break Through to Your Next Income Level in Your Career or Business, Effortlessly Clean Up Unconscious 'Money Junk' and Finally Free Yourself From Debt, Under Earning and Other Financial Self-sabotage
Niche Breakthrough Secrets: The Magic Formula that Quickly Makes It Possible for You to Market Less, Fill Your Business Faster and Sell More of Your Products and Services All While Staying Powerfully Authentic to Who You Are
Testimonials
"Lourdes has been on my stage more than once. She was excellent each time! She was well prepared, highly professional and engaging.

I know that Lourdes is highly skilled in her profession and we had her speak about her journey and her successes to an audience of several hundred people.

I've also seen her give a presentation where she was educating a non-technical audience on a highly complex topic and she made it clear, simple and easy for everyone to understand. Again, she was very prepared."

Kendall SummerHawk, Co-Founder, International Association of Women In Business Coaching


"I am honored to recommend Lourdes. When she spoke at my event she displayed such an unusual quality to the audience, she really cares about them and it shows in her presentation. The reviews were all very high and she deserved the ratings that she received.

Lourdes also spoke at one of my events in Thailand. She was rated very high at that event also which is very difficult when you have people from so many different countries and cultures.

I believe you have chosen well when you chose Lourdes to speak at your event."

John Childers
Wealth Academy
Professional Memberships and Certifications
Lourdes Gant is a proud member of the Institute of Internal Auditor & The Association of Certified Fraud Examiners.
Lourdes is also a Certified Money Breakthrough Method Coach & Certified to teach Niche Breakthrough Secrets