Lourdes will take you beyond financials to survey, evaluate and optimize

Five Critical Areas

of your business:


Your Values

Your cash flow is a direct reflection of your values! This audit will put you in alignment with your big WHY allowing you to serve more and receive more!

Your Financials

This comprehensive audit will give you confidence and clarity to understand, discipline and grow your company's financial

Your Systems

Are your systems working for you or against you? Systems that are out-dated and inefficient cost you money. This audit will have your business operating in the flow!

Your Relationships

Your business relationships – partners, employees, service providers, colleagues, customers and prospects – are either life-blood or pure poison to your business. This audit will up-grade all your relationships!

Your Quality of Life

Is your business working for you, or are you working for your business? This proprietary audit is your key to personal freedom!






| | |
| --- | --- |
| | |
| | Claim your copy of this unique and powerful set of audits now! It will only be available for a limited time! |
Claim Your Free Gift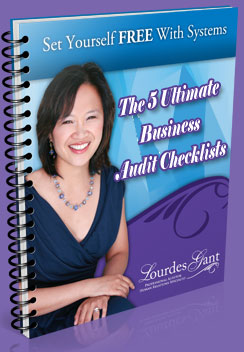 Enter Your Information in the Boxes Below for Your Complementary Copy of
The 5 Ultimate Business Audit Checklists
I hate SPAM - Your email address will be kept 100% secure and you can unsubscribe at any time!